Private International Record of Certified Sovereign Individual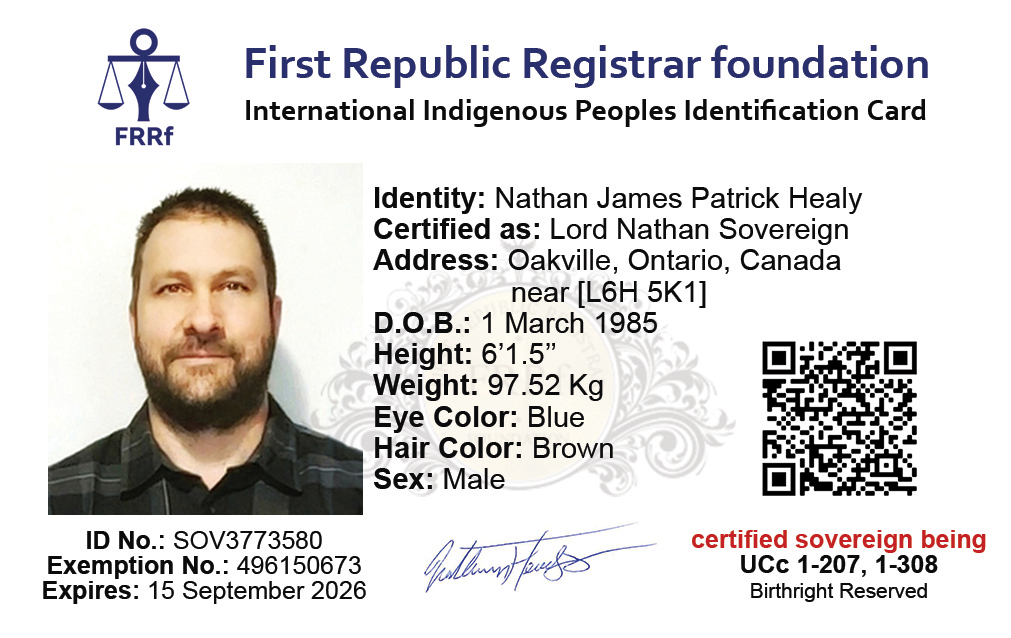 Record Detail: 
First Republic Registrar recognises the Ordained and Certified Sovereignty of the living being identified by virtue of this Identification Card and Private Records Archive.
GENERAL PROVISIONS:
1. Birthright Reserved in All Jurisdictions: UCc 1-207, 1-308!
2. COVID-19 Certified Exemptions: Testing, Medication, Vaccination and/or Mask wearing by consent only!
3. Commercial Certified Exemptions: Licencing, Taxation and/or Torts.
4. Do Not Interrogate, Do Not Detain, Do Not Arrest – unless under suspicion of causing loss, harm or damage to living beings and/or personal/private property.
5. Without Restriction to Travel: UDHR Article 13.
NOTE:
The Above provisions are in place on the grounds of the automatic and permanent voiding of all previous fictitious and/or fraudulent conveyance of language and/or incorrect sentence structure communication parse syntax grammar – with respect to assumed and presumed contracts, claims, treatise, legislations, statutes and the likes.
PERSONAL ATTRIBUTES:
1. Aboriginal Indigenous International Citizen, domiciled on the Land of Canada.
2. Certified Sovereign as: Lord Nathan Sovereign.
3. ID No. SOV3773580
4. Expires: 15 September 2026
5. Philanthropist and Humanitarian Projects Co-ordinator.
BIRTHRIGHT VIOLATION NOTICE: 
Any breach or attempted breach of this Certified Sovereignty against the recipient will be taken as a violation of the recipient's birthright as exemplified above and shall be dealt with by the force of the common law and will result in a Lawful Commercial Lien with a monetary value starting from One Million Great British Pounds (£1,000,000.00 GBP) or the equivalent in gold and/or silver – per perpetrator and per violation.
Travelling [driving] Categories Detail
A. Motorcycle.
B. Motor vehicles, other than those in category A having a permissible maximum weight but exceeding 3,500 kg (7,700 lbs) and more than eight seats in addition to the driver's seat.
C. Motor vehicles used for the carriage of goods and whose permissible maximum weight exceeds 3,500 kg (7,700 lbs).
D. Motor vehicles used for the carriage of passengers and having other than eight seats in addition to the driver's seat.
E. Combination of vehicles of which the driving vehicle is in a category of categories for which the drivers is licensed (B and / or C and / or D), but which are not themselves in that category of categories.