Private International Record of Certified Sovereign Individual
Divine Proto Notary of Earth-Plane
THE BEARER OF THIS CARD IS INTRUSTED TO WATCH THE OBSERVANCE OF HUMAN RIGHTS ALL OVER THE WORLD AND HELP PEOPLE TOWARDS MORE JUSTICE AND DIGNITY.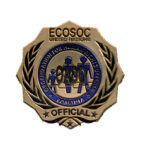 Record Detail: 
First Republic Registrar recognises the Ordained and Certified Sovereignty of the living being identified by virtue of this Identification Card and Private Records Archive.
GENERAL PROVISIONS:
1. Birthright Reserved in All Jurisdictions: UCc 1-207, 1-308!
2. COVID-19 Certified Exemptions: Testing, Medication, Vaccination and/or Mask wearing by consent only!
3. Commercial Certified Exemptions: Licencing, Taxation and/or Torts.
4. Do Not Interrogate, Do Not Detain, Do Not Arrest – unless under suspicion of causing loss, harm or damage to living beings and/or personal/private property.
5. Without Restriction to Travel: UDHR Article 13.
NOTE:
The Above provisions are in place on the grounds of the automatic and permanent voiding of all previous fictitious and/or fraudulent conveyance of language and/or incorrect sentence structure communication parse syntax grammar – with respect to assumed and presumed contracts, claims, treatise, legislations, statutes and the likes.
PERSONAL ATTRIBUTES: 
1. Ordained Sovereign by Birthright and Aboriginal Indigenous International Citizen, born in Jamaica W.I., domiciled on the Land of England (UK).
Paul Simons is a Proto-Notary, an Author, Writer, Scribe, Public Speaker, Philanthropist and Humanitarian Projects Co-ordinator.
2. Certified Sovereign as: H.E. HRH Lord Sir Paul-Anthony: Simons
3. Spiritually known as Nebu Ka Ma'at: Golden Ray of Justice, Liberation and Balance.
4. Sir Count of Counts as: Nobilis Count Nebu Bey c/o The Talismanic Kingdom of Atmaurium:
Minister of Finance, Department of Numismatics and Mercantile c/o Central Bank of The Talismanic Kingdom of Atmaurium
5. Proto-Notary and Notaries Public c/o the Sovereign International Court of Justice.
6. Certified Sovereign Underwriter and Exchangor/Grantor c/o First Republic Registrar foundation.
7. Head Speaker of the House c/o Sovereign Kingdom of St. Penn Nation State.
8. ECOSOC United Nations Officer/ Diplomatic Agency Status/ Inspector of Human Rights c/o Organisation for Human Rights Defence: "OADO":
This Officer is not to be obstructed in the duty of observation investigation and the enforcement of the protection of International Human Rights in the Member States.
This Officer conducts international business under the diplomatic protocols uninhibited by local laws.
9. Divine Proto-Notary c/o Dynastic Order of St. Mariam (DOSM).
10. Certified Sovereign Underwriter and Divine Proto-Notary c/o Zyion Xpansion foundation and The African Family Reunion. 
11. Imperial Sovereign Legislator c/o United Africa Republic state
12. Head Knight c/o Order of Knight Kadosh. 
BIRTHRIGHT VIOLATION NOTICE: 
Any breach or attempted breach of this Certified Sovereignty against the recipient will be taken as a violation of the recipient's birthright as exemplified above and shall be dealt with by the force of the common law and will result in a Lawful Commercial Lien with a monetary value starting from One Million Great British Pounds (£1,000,000.00 GBP) or the equivalent in gold and/or silver – per perpetrator and per violation.