Private International Record of Certified Sovereign Individual
Divine Proto Notary of Earth-Plane
THE BEARER OF THIS CARD IS INTRUSTED TO WATCH THE OBSERVANCE OF HUMAN RIGHTS ALL OVER THE WORLD AND HELP PEOPLE TOWARDS MORE JUSTICE AND DIGNITY.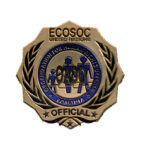 PERSONAL ATTRIBUTES: 
1. Ordained Sovereign and Aboriginal Indigenous International Citizen, born in Jamaica W.I., domiciled on the Land of England (UK).
2. Certified Sovereign as: H.E. HRH Lord Sir Paul-Anthony: Simons
3. Spiritually known as Nebu Ka Ma'at: Golden Ray of Justice, Liberation and Balance.
4. Author, Writer and Public Speaker.
5. Proto-Notary and Notaries Public c/o the Sovereign International Court of Justice.
6. Certified Sovereign Underwriter and Exchangor/Grantor c/o First Republic Registrar foundation.
7. Head Speaker of the House c/o Sovereign Kingdom of St. Penn Nation State.
8. ECOSOC United Nations Officer/ Diplomatic Agency Status/ Inspector of Human Rights c/o Organisation for Human Rights Defence: "OADO".
This Officer is not to be obstructed in the duty of observation investigation and the enforcement of the protection of International Human Rights in the Member States.
This Officer conducts international business under the diplomatic protocols uninhibited by local laws.
9. Minister of Finance, Department of Numismatics and Mercantile c/o The Talismanic Kingdom of Atmaurium.
10. Divine Proto Notary c/o Dynastic Order of St. Mariam (DOSM).
11. Philanthropist and Humanitarian Projects Co-ordinator.
Travelling [driving] Categories Detail
A. Motorcycle.
B. Motor vehicles, other than those in category A having a permissible maximum weight but exceeding 3,500 kg (7,700 lbs) and more than eight seats in addition to the driver's seat.
C. Motor vehicles used for the carriage of goods and whose permissible maximum weight exceeds 3,500 kg (7,700 lbs).
D. Motor vehicles used for the carriage of passengers and having other than eight seats in addition to the driver's seat.
E. Combination of vehicles of which the driving vehicle is in a category of categories for which the drivers is licensed (B and / or C and / or D), but which are not themselves in that category of categories.